Bio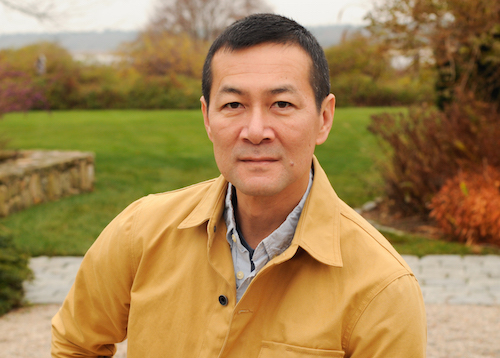 Author photos by Melissa Frost
Don Lee is the author of the novel Lonesome Lies Before Us. He is also the author of the novel The Collective, which won the Asian/Pacific American Award for Literature from the Asian Pacific American Librarians Association; the novel Wrack and Ruin, which was a finalist for the Thurber Prize; the novel Country of Origin, which won an American Book Award, the Edgar Award for Best First Novel, and a Mixed Media Watch Image Award for Outstanding Fiction; and the story collection Yellow, which won the Sue Kaufman Prize for First Fiction from the American Academy of Arts and Letters and the Members Choice Award from the Asian American Writers' Workshop. All of his books have been published by W. W. Norton.
He has received an O. Henry Award and a Pushcart Prize, and his stories have been published in The Southern Review, The Kenyon Review, GQ, The North American Review, The Gettysburg Review, Manoa, American Short Fiction, Glimmer Train, Charlie Chan Is Dead 2, Screaming Monkeys, Narrative, and elsewhere. His book reviews and essays have appeared in Electric Literature, The Stranger, The Boston Globe, Harvard Review, Boston magazine, The Village Voice, and other magazines. He has received fellowships from the Massachusetts Cultural Council and the St. Botolph Club Foundation, and residencies from Yaddo and the Lannan Foundation. In 2007, he received the inaugural Fred R. Brown Literary Award for emerging novelists from the University of Pittsburgh's creative writing program. 
From 1988 to 2007, he was the principal editor of the literary journal Ploughshares. From 2007 to 2008, he was an associate professor of creative writing at Macalester College in St. Paul, Minnesota. From 2008 to 2009, he was an associate professor in Western Michigan University's graduate creative writing program, in Kalamazoo, Michigan. In the fall of 2009, he began teaching as a professor in Temple University's M.F.A. program in creative writing in Philadelphia, where he founded TINGE Magazine, a graduate student–run online literary journal.
He has served as an independent consultant for Bamboo Ridge, The Georgia Review, New England Review, Agni, and CLMP.
He is a third-generation Korean American. The son of a career State Department officer, he spent the majority of his childhood in Tokyo and Seoul. In Tokyo, he attended ASIJ—the American School in Japan. He received his B.A. in English literature from UCLA and his M.F.A. in creative writing and literature from Emerson College. After graduating, he taught fiction writing workshops at Emerson for four years as an adjunct instructor, then began working full-time at Ploughshares. He was an occasional writer-in-residence in Emerson's M.F.A. program and a visiting writer at other colleges and universities. More recently, he was a fiction faculty member at the Bread Loaf Writers' Conference in 2019.
He is married to the fiction writer Jane Delury.

Photo by Stephanie Todd